Just like the other international Tech-Geeks that have been in contact with the Amber Plus device, Koen Vervloesem starts his article by presenting the features and hardware of the Amber device prior to explaining the installation and configuration process of the NAS and Router functionalities.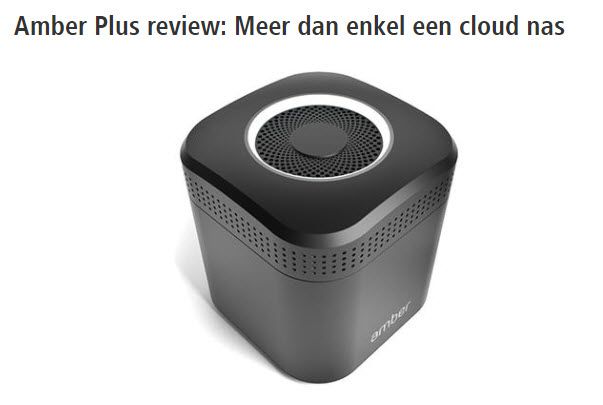 Amber Plus review: more than just a cloud NAS. 
However, one big advantage of the Amber device that was somewhat neglected by most other reviewers, is the compatibility with Docker. Docker is open-source software that runs applications, in our case on the Amber device. To do so, one has to install the AmberPRO service in the Control Panel. This will show a new section, 'AmberPRO', on the left side of the web interface (visible once the Amber is installed and configured).
To work with Docker, according to the Belgian Koen Vervloesem, the first step of an Amber user should be to create a separate folder for each container. New containers can be created in the container section of the AmberPRO. As soon as the container has the status 'Running', you can access it through the port that you have set up previously. This integration of Docker makes the Amber Plus an interesting Home Server.  
Advantageous, LatticeWork BV highlights a number of open-source programs such as Nextcloud, Odoo, Home-Assistant, and Jitsi, which are sure to come in handy for self-employed or home-based workers. Furthermore, to make Docker usage easier for users, the developers launched the Amber App Store with some of the most popular Docker applications. This requires no specific configuration and the applications are 1-click ready to be installed. You can access the containerized Apps on your Amber located at home from anywhere, by enabling AmberAnywhere and enjoy the freedom of your private hosting service.
However, aside from all the benefits of Docker, the Belgian claims that if you really do not know anything about Docker, it's not as user-friendly as claimed. Nevertheless, the Amber Plus does offer a relatively easy way to run Docker containers without having to deal with managing a Linux Server.
During Koens' testing, the NAS proved capable of running Docker containers for Home Assistant and Nextcloud, but he urges to keep in mind that the available 2GB of Ram are limited and may slow down the loading process of the Amber as more containers will be installed.
Mr. Vervloesem concludes that if you want a simple device that offers you both a NAS, WiFi Router and Server, then the Amber Plus is certainly not a bad solution. But the ecosystem is still evolving and therefore sometimes confusing. Furthermore, as a user, one should also be comfortable with the idea of trusting and depending on AmberCloud for many things.